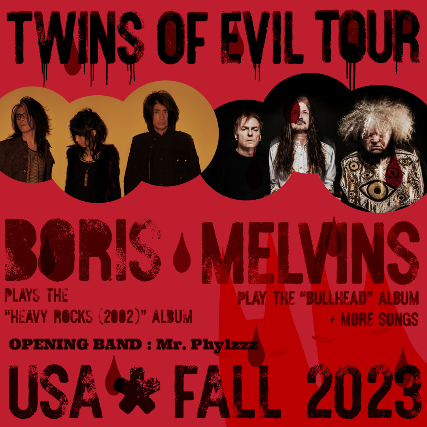 The Grog Shop Presents:
BORIS and MELVINS
Thu, Sep 14
Show:

8:00 pm
(Doors:

7:00 pm

)
$40.00
The Grog Shop presents BORIS and MELVINS live at Beachland Ballroom with Mr. Phylzzz.

Thursday, September 14
7pm doors / 8pm show
$35 advance / $40 day of show
All Ages
+$3 at the door if under 21

BORIS
Boris formed in 1992 and eventually arrived at the band's current lineup of Takeshi, Wata, and Atsuo in 1996. In the years since, Boris has tirelessly explored their own rendition of what is heavy through methods entirely their own. Though the depths of their "heaviness" may intensify, their unique musicianship defies classification in any one genre or style, so let's just call it real "heavy music" in extreme color. Their music has been called a "game changer" regarding the leading edge of the world's rock scene, and that influence is limitless. They enter realms that cannot be described simply in terms of the "explosive sound" or "thunderous roars" that have become their trademark.

MELVINS
The Melvins weren't the first band to acknowledge the heavy metal influences that most left-of-center bands had been trying to shake off since punk rock broke in 1977 (that honor would go to Black Flag on their polarizing 1984 album My War). But no other band to emerge from the punk/alternative underground would mine Black Sabbath's slow, monolithic roar with greater effect than the Melvins, and they would prove to be wildly influential despite barely breaking out of cult status. The drop-D tunings and brontosaurus stomp of grunge icons such as Tad, Mudhoney, and Soundgarden would be unthinkable without the trails the Melvins blazed, and Kurt Cobain often sang their praises, helping them land their first major-label recording deal in 1993. They became a bridge between the edges of the punk and metal communities, who would find greater common ground from the '90s onward. (Their debut EP, 1986's 6 Songs, found them wavering between speedier punk-oriented numbers and full-on heaviness, but by 1991's Bullhead, the Melvins' trademark gargantuan sound was firmly in place.) While the Melvins proved as recognizable as any band of their day, they were also more creatively flexible than nearly all their peers, willing to experiment with different styles (the massive suite on 1992's Melvins [aka Lysol], the ambitious studio experimentation of 1996's Stag, the noisy soundscapes in 2017's A Walk with Love and Death), and a variety of musical configurations (multiple guest vocalists on 2000's The Crybaby, using two drummers on 2006's A Senile Animal, a rotating team of bassists on 2016's Basses Loaded, and adding pop and groove accents on 2022's Bad Mood Rising), all of which helped them remain productive and prolific more than three decades after they launched.

Mr. Phylzzz
Formed in late 2015, Mr. Phylzzz (pronounced Mr. Flyzzz..get it right!) is an ever changing no rules twopiece freakshow from Chicago Il with founder Clinton Jacob on Guitar/Vocals and Danny Sein on Drums. Over time Mr. Phylzzz formed a heavy wall of sound filled with hooky riffs, melodic vocals and explosive drums that created a chaotic genre jumping storm which caught the ear of Thomas Hazelmyer (Amphetamine Reptile Records) who has been releasing Phylzzz records into the world since 2019.
---
Boris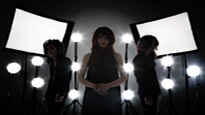 Boris is a Japanese band formed in 1992 in Tokyo and composed of drummer Atsuo, guitarist/bassist Takeshi, and guitarist/keyboardist Wata. All three members contribute vocals.
Melvins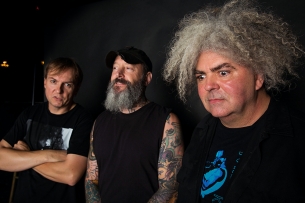 The Melvins were formed in Montessano, Washington in 1983 by Buzz Osborne, Matt Lukin and Mike Dillard. Lukin and Dillard left the band and drummer Dale Crover stepped in shortly thereafter. Osborne and Crover have been the Melvins' mainstays throughout their 29 year metamorphosis.
To date the band has released 27 original albums, numerous live full-lengths and far too many to count singles and rarities. They've partnered with Jello Biafra, Lustmord and Fantomas for individual releases and toured the world many times over (side note: the band was in both Christchurch and Tokyo for their 2011 earthquakes).
With the release of (A) Senile Animal in 2006, the Melvins became a four-piece, essentially annexing Jared Warren and Coady Willis of Big Business. The Melvins, already known for their shattering mix of punk-meets-metal (and often referred to by an assortment of tags including sludge and grunge), were now louder and more bombastic than ever leading to a resurgence in the band's popularity and a run of three original full-lengths. Never ones for complacency, Buzz and Dale have since created Melvins Lite, a line-up partnering the pair with Mr. Bungle's Trevor Dunn and most recently teamed with Butthole Surfers' JD Pinkus and Paul Leary for the 2014 release, Hold It In.
Mr. Phylzzz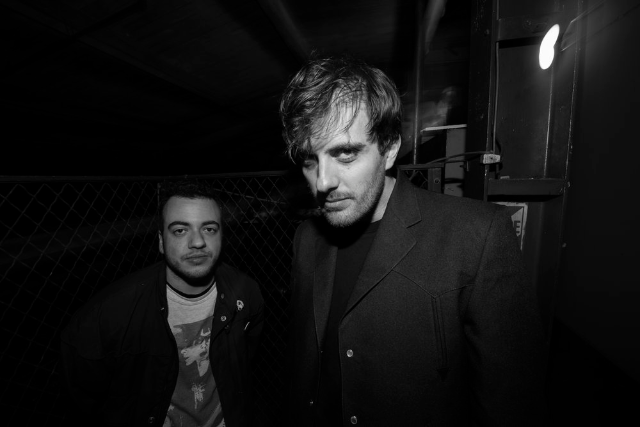 Formed in late 2015 Mr.Phylzzz (pronounced Flyzzz) is an ever changing monster of noise. Over time Mr.Phylzzz has formed a heavy wall of sound filled with hooky riffs and melodic vocals- creating a chaotic storm that's well worth the painful wall of cranked amps and exploding drums. During the growing years, Phylzzz was doing small tours which landed them getting picked up in 2019 by Amphetamine Reptile Records (AmRep) to be featured in the legendary "Dope Guns 'N Fucking in the Streets" Vol 14 comp. Later that year they released their debut album "Penitent Curtis" (2019), followed by "Cancel Culture Club" (2022) on AmRep. The band is Chicago based and are currently on tour in anticipation of their new album which is set to be released fall of 2023. Mr.Phylzzz is Clinton Jacobs (guitar/vox) & Danny Sein (drums).