Acid Mothers Temple / My Education / DANA
Tue, May 9
Show:

8:00 pm
(Doors:

7:00 pm

)
$15 - $18
Tuesday, May 9
Doors 7pm / Show 8pm
$15 adv / $18 dos
+$3 at door if under 21
Acid Mothers Temple
Formed in 1995 by Makoto Kawabata at the same time as the Acid Mothers Temple Soul Collective. The group released its debut album in 1997 on PSF Records (Japan), and it was selected as one of the year's best albums in the The Wire magazine (UK). In 1998 the group played their first tours of the US and Europe. Since then the group has released a huge number of albums on labels from many different countries. As of 2017, the group has released around 80 albums. Every year since 1998, they have toured extensively in the US and Europe, and more recently have started performing around Asia and in Japan too. The group has performed in collaboration with many musicians including psychedelic originators Gong and Guru Guru, Simeon (Silver Apples), Nik Turner (Hawkwind), and the Occitanian trad sinder Rosina de Peira. Japanese collaborators have included Afrirampo, Tatsuya Yoshida (Ruins), Maso Yamazaki (Masonna), Seiichi Yamamoto (Boredoms), Jun Kuriyama (The Ox), and many others. To begin with the group had a floating line-up with contributions from many members of the AMT Soul Collective. But as tours became more frequent, the group began to coalesce around a core touring line-up. Other bands were created with Acid Mothers Temple as part of their name (AMT & The Cosmic Inferno, AMT SWR, AMT & The Space Paranoid, AMT & Infinity Rising Zero, Acid Mothers Gong, Acid Mothers Guru Guru, Acid Moon Temple, etc.), but AMT & The Melting Paraiso U.F.O. has continued to function as the mothership and main lineage for all our activities.
In 2016, 21 years since the group's founding, there was a major shift in the line-up and "Next Generation" was added to the name. We now view the first 20 years as chapter one in our story, and we are now turning the page to start chapter two.
The group played more than 100 shows in each year, toured in Europe, North America, South America, Oceania and Asia, also Japan. They also played many festivals (Glastonbury Festival in UK, Levitation in US and France, Rock In Opposition in France, Standon Calling in UK, Kuala Lumpur Experimental Film, Video & Music Festival in Malaysia, LUC fest 貴人散步音樂節 in Taiwan, etc). During pandemic, they launched their official Bandcamp, have released more than 60 albums (including many unreleased materials), and have toured in Japan in each year. And they played the streaming festival "Levitation Sessions". They organized "Acid Mothers Olympic 2021" against "Tokyo Olympics 2021", they originated and played a new style of "music sports". Autumn 2022, Finally the group will go to the first European tour after pandemic.
The current touring line-up is: Kawabata Makoto (the founder member), Higashi Hiroshi (the founder member), Satoshima Nani, Jyonson Tsu and Ron Anderson.
Acid Mothers Temple & The Melting Paraiso U.F.O. :
Kawabata Makoto : guitar, speed guru
Higashi Hiroshi : synthesizer, fishin'god
Jyonson Tsu : voice, guitar, bouzouki, midnight whislter
Satoshima Nani : drums, another dimension
Ron Anderson : bass
DANA
Avant-garage from Columbus
https://danabandohio.bandcamp.com/
---
Acid Mothers Temple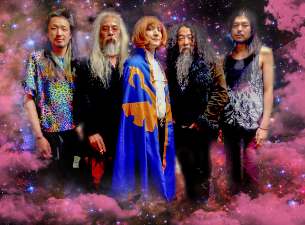 The sprawling universe of that is Acid Mothers Temple was formed in 1995 by Kawabata Makoto. Originally titled the Acid Mothers Temple soul-collective and encompassing musicians, dancers, artists, farmers, channellers, ex-yakuza, mermaid researchers and professional vagrants, the collective has always had at its core a dedication to improvised music. Now with a history of over two decades, and a discography of over one hundred releases, which is not to mention the numerous solo and side-project releases which encompass everything from drone, acid-folk, acapella, to minimalist composition, the group show no signs of relenting in the pace of their creative energy.
In December 2017 Acid Mothers Temple & The Melting Paraiso UFO welcomed new vocalist Jyonson Tsu, and performed an initial show together in Tokyo at the Annual Acid Mothers Temple Festival. Sadly this era also marked the departure from the band of long-standing member Mitsuru Tabata. This new incarnation of the AMT collective, featuring founders Kawabata and Higashi, at the helm, plus the recently recruited rhythm section of Sakamoto and Uchida who joined the group in 2015. The band tour Europe in this new incarnation for the first time in Autumn 2018.
My Education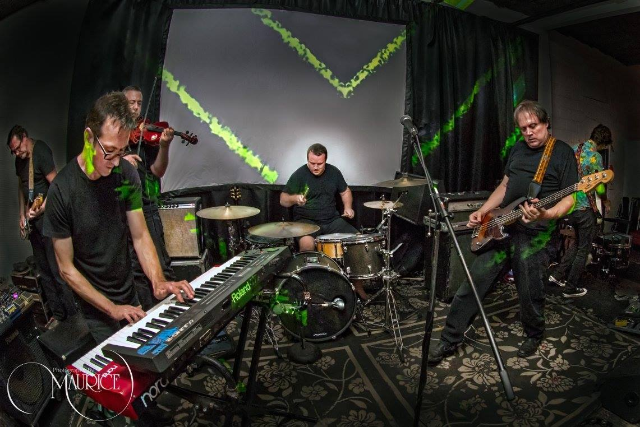 Austin, Texas-based My Education formed in 1999 and have released eight full-length albums. The band's last album, Schiphol, was produced by Mike McCarthy (Spoon, Trail of Dead, Patty Griffin etc.) at Public HiFi studios in Austin.

The band's new LP "Emka" was released on somewherecold records on October 14th, 2022. It is a trans-hemispheric collaboration that culminated in a week of ecstatic sessions at the famed Sonic Ranch studios in Tornillo, TX with Charles Godfrey (Swans, Trail of Dead, etc.) and mastered by Harris Newman (Godspeed You! Black Emperor, Eluvium, Besnard Lakes) at Grey Market Mastering. "Emka" reflects the terrors of living in a world shaped by the last world war and the cold war that followed it.
My Education regularly tours the US and did 19 shows in 20 days in Europe in 2013. They have shared the stage with A Place to Bury Strangers, Kinski, Bardo Pond, Dalek, The Black Angels, The Sea and Cake, Warpaint, Alexander Hacke/Algis Kizys duo, the Psychedelic Furs, The Soundtrack of Our Lives, This Will Destroy You, and many more.
North Americans will soon see them on tour with Acid Mothers Temple and the Melting Paraiso UFO in 2023.
DANA