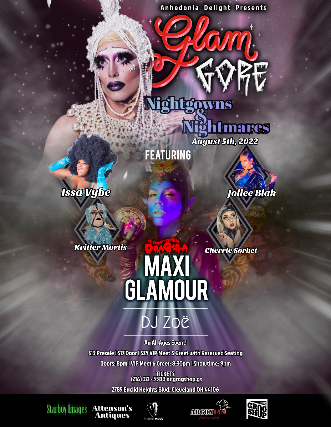 GlamGore: Nightgowns & Nightmares
Fri, Aug 5
Show:

9:00 pm
(Doors:

8:00 pm

)
$13.00 - $200.00
Wake up! Your sleep paralysis demon wants to put on a show for you. Put on your fiercest pajamas and get ready to come face to face with your worst nightmares come to life! GlamGore brings you a burlesque-heavy drag show inspired by the dark and twisted fears of your night terrors.
Featuring performances by Issa Vybe (Cleveland) // Cherry Sorbet (Cleveland) // Kritter Mortis (Columbus) // Joliee Blak (Cleveland) with EXTRA SPECIAL GUEST from the Boulet Brothers' Dragula Season 3, Louisiana Purchase (TX)
Cleveland's "Fatale of Filth"
Anhedonia Delight
is proud to present GlamGore, a reoccurring alternative and themed drag show series housed at the legendary Grog Shop!
Located in Cleveland Height's Coventry Village, GlamGore is one of the few alternative, themed drag shows in Ohio. Produced, marketed, and hosted by Anhedonia Delight, GlamGore has established itself as a successful, empowering presence in the Cleveland drag scene and beyond. GlamGore attracts audiences for their love and appreciation of drag and performers for their interest in showcasing their drag skills as an art form. GlamGore is one of few all-inclusive drag events that incorporates curated themes to elevate artists and audiences alike! Above all else, Anhedonia Delight aims to push the boundaries of drag and give opportunities to people to share their art in a safe and supportive space!
Each month, GlamGore features a variety of performance artists under one roof ranging from beauty queens to drag monsters! As the hostess and manager of GlamGore, Anhedonia Delight has had the pleasure of booking artists from across the country, including artists seen on RuPaul's Drag Race, Camp Wannakiki & The Boulet Brothers' Dragula! As of 2022, GlamGore celebrates 3 years and continues to draw in large crowds of all shapes, sizes, and backgrounds!
For more information, please visit
www.grogshop.gs
or call the Grog Shop at (216) 321-5588 for details! Please follow
GlamGore
on Instagram at @GlamGoreCLE for all event updates, promotions, and ticket purchases!
---
GlamGore: Nightgowns & Nightmares