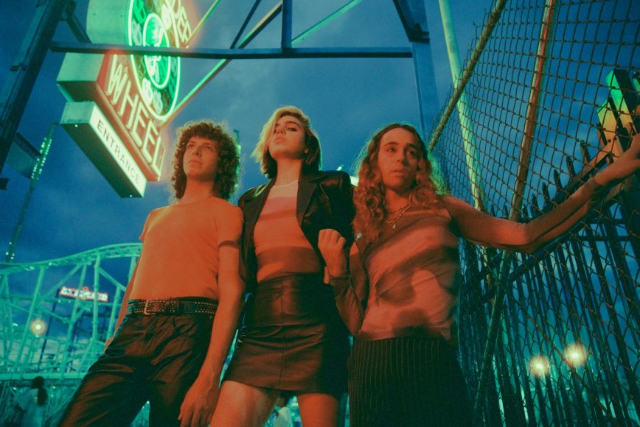 Sunflower Bean
w/
Jackie Hayes
,
Kid Tigrrr
Wed, May 25
Show:

8:00 pm
(Doors:

7:00 pm

)
$18.00
SUNFLOWER BEAN
Sunflower Bean is an indie rock trio out of NYC. Formed in late 2013 with singer/guitarist Nick Kivlen, singer/bassist Julia Cumming, and drummer Jacob Faber — all in high school at the time — they quickly earned attention for their alternately rock-edged and dreamy guitar tunes, after their first EP, Show Me Your Seven Secrets, arrived in January 2015. Later that year they were invited to open on tours for the likes of DIIV, The Vaccines, and Best Coast. Their debut album, Human Ceremony, was issued by Fat Possum in early 2016. They toured Human Ceremony internationally for the next year and half, playing heavily in the UK, Europe, Japan, and China. In 2017, they were the direct support for both the Pixies and Wolf Alice. The band also managed to find time off in their hometown of NYC to write and record their sophomore album, Twentytwo in Blue, which was co-produced by Unknown Mortal Orchestra's Jacob Portrait and Matt Molnar (formerly of Friends). Twentytwo in Blue was released on March 23rd, 2018 via Mom+Pop Music and Lucky Number Music, almost exactly 2 years and 2 months from their debut album. All members were 22 years old when the record was created and released. Twentytwo in Blue debuted at #39 in the UK's TOP 40 Album Charts and #16 on Billboard's Independent Album Charts. In early 2019, the band will be releasing a new EP, "King Of The Dudes" which features BBC1's Hottest Record In The World, "Come For Me". They recorded the EP in LA during the summer of 2018 with producer Justin Raisen (Charli XCX, Angel Olsen, Sky Ferreira). "Come For Me" has become the band's first single to chart in the US. It debuted at #37 in Billboard's Triple A Rock Chart.
JACKIE HAYES
Jackie Hayes (born August 17, 1999) is a Waukegan-raised, Chicago-based musician detangling the tremors of her life to articulate the perils of young adulthood. Her first musical experiences happened in the church worship band, where her piano skills were hailed as a gift from God. There's an irony to the divinity, considering Hayes was kicked out of the worship band for being a nonbeliever. Rejecting doctrine and dogma, Hayes detoured onto her own musical journey in near-secrecy with fierce opposition from her parents. She spent her adolescence sneaking into shows, working service and retail jobs to fund her own career. Her self-published music gained her a following for the inviting nature of her vulnerable candor.
Finally detaching herself from her family's religious fervor, Hayes moved to Chicago at 19, immersing herself in the city's new wave of genreless artistry. The move proved fruitful: she continued self-releasing under the Hayes name to growing acclaim, and shared stages with the likes of Claud, Role Model, and The Japanese House. After collaborating with celebrated producer Billy Lemos, the pair worked on Hayes' debut EP take it, leave it. Now, they join forces once more for a new chapter in parsing through darkness: There's Always Going to Be Something.

Kid Tigrrr
KID TIGRRR is the sparkly & ethereal electric solo project of singer-songwriter Jenna Fournier of the shoegaze/alt-rock band NIIGHTS. She is currently recording.



---
Sunflower Bean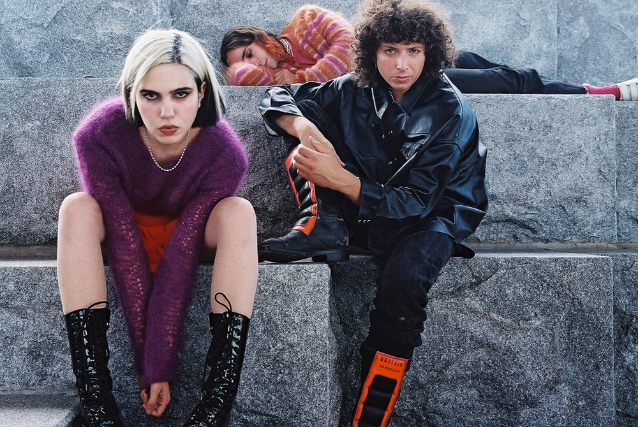 Blue, as Julia Cumming of Brooklyn's Sunflower Bean points out, is something of a "loaded color." The word is of course often synonymous with sadness—certainly blues music isn't known for its laughs. But it's also the "emotional color" of the band's upcoming, sparkling second album, Twentytwo in Blue. "We definitely don't want it to come across as a sad record," explains Cumming. "Blue is kind of hopeful, and we wanted to explore that color with this record." The new record by vocalist and bassist Cumming, drummer Jacob Faber and guitarist and vocalist Nick Kivlen is many things: rousing, romantic, topical, empathetic and insightful. But defeatist it's not.
All three band members will in fact be 22 when Twentytwo in Blue is released in March of 2018, almost two years and two months after Sunflower Bean's hazy, charming debut LP, Human Ceremony. They were two momentous years in which the trio toured the world several times over and grew in accomplishment, discovering a newly confident voice they bring to the second album, one that doesn't shy away from the political changes and cultural shifts that have left America and the world stupefied. "This has been such an unbelievable time," says Kivlen. "I can't imagine any artist of our ilk making a record and not have it be seen through the lens of the political climate of 2016 and 2017."
While Sunflower Bean remains a guitar band at its core, new and gentler textures were welcomed this time around. "What we've figured out since Human Ceremony is that we did a lot of the rock stuff, and this time it just felt right to explore the sweeter side, and dive deep into that," says Faber. For her part, Cumming is truly singing like never before, on the sublime "Memoria" and "Only a Moment". "I think before I was a little afraid to show myself as a singer, even to my band mates," she says. "I think if anything, after making this we're the most well-rounded we've ever been."
If there was a ragged beauty in the gauzy, groovy wall of sound of Human Ceremony and its predecessor, the 2015 EP Show Me Your Seven Secrets, there's a new directness to these songs, a product of Sunflower Bean's own maturity and the insanity of the times we're in. Twentytwo in Blue is a record made by millennials in solidarity with their own—the most progressive, even revolutionary generation we've ever seen. "I think we all really want the record to be lovable," says Cumming. "I want the songs to be something that someone can get attached to. Because that's what I look for in songs myself, and that's the kind of experience we want to give to others."
Jackie Hayes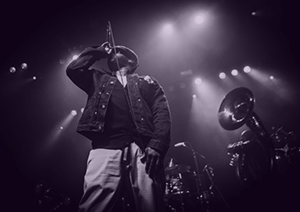 Kid Tigrrr