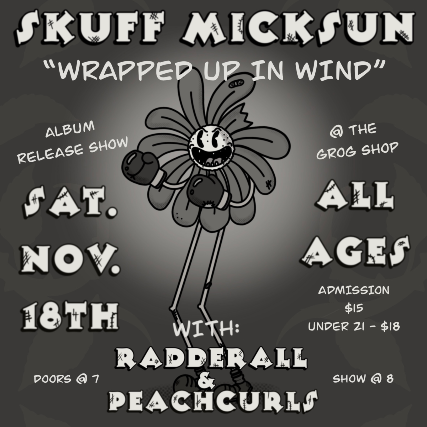 Skuff Micksun "Wrapped Up In Wind Album Release" ft Peachcurls and Radderall
Sat, Nov 18
Show:

8:00 pm
(Doors:

7:00 pm

)
$15.00
Sat. November 18,2023
Doors 7:00 PM / 8:00 PM
$15 ADV / $17 DOS
All Ages
+3 at door if under 21

Skuff Micksun

So, here we are… Skuffmicksun.com

Peachcurls

I can't write about myself in the third person and feel genuine. This is the internet, and ain't no rules, so it's first-person. 
 
I'm Peachcurls, an artist/producer (which is also an artist… music industry nomenclature is weird) from Cleveland, OH. EASTSIDE! I make music off the MacBook Pro.

Radderall

Bless the themes, the way back when, then revert your gaze, future-faced again 🥀

---
Peachcurls
I can't write about myself in the third person and feel genuine. This is the internet, and ain't no rules, so it's first-person. 
 
I'm Peachcurls, an artist/producer (which is also an artist… music industry nomenclature is weird) from Cleveland, OH. EASTSIDE! I make music off the MacBook Pro.
Radderall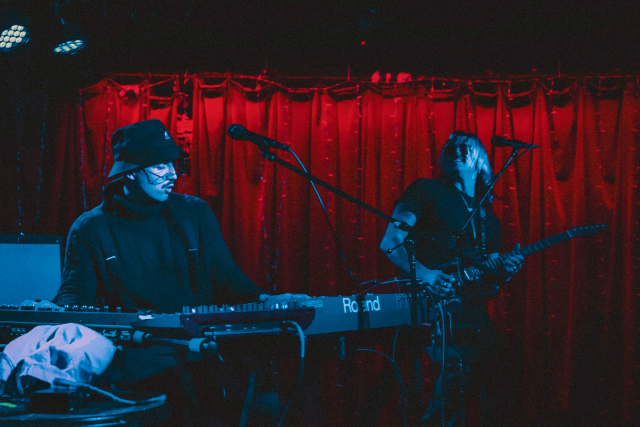 Once upon a brief forever ago, two young, landlocked, Ohioan fools found solace in a type of sad-boy-ness that could only be hosted by the honest acknowledgement of nostalgia. First loves, hormone-drenched house parties, receded responsibilities, reunions that rile by assumedly absent feelings of once upon some mess of whatever part of one's wonder years...and so on.
These remembrances and experiences - incubated in long distance demos and ideas that span nearly a decade before us - soon came to fruition by the finesse/caress of Pittsburgh, Pennsylvania's Madeleine Campbell (then an audio engineer of Treelady Studio) in the Spring of 2013.
Upon hearing Zach Taneyhill's compositions thru that delicious brand of Garageband-based magic, Campbell offered her talents to Taneyhill and his long-time collaborator, Jonny McAllister, to begin the gaze-on-the-beach experiment.
The Treelady sessions resulted in the group's first recorded project titled 'Vakation', released in 2018.
In the years to follow, the duo would re-connect with long time friend and producer, Warren Davidson, to bring to life their home recorded demos for a second full-length, 'If Ever'. A coming of age and sound.
In time, Davidson joined the group on bass with Alex Eliopolous lending his expertise on drums. A connection allowing for continuity from the studio to the stage, where the band currently thrives and debuts material from their third record titled, 'How Can I?'.