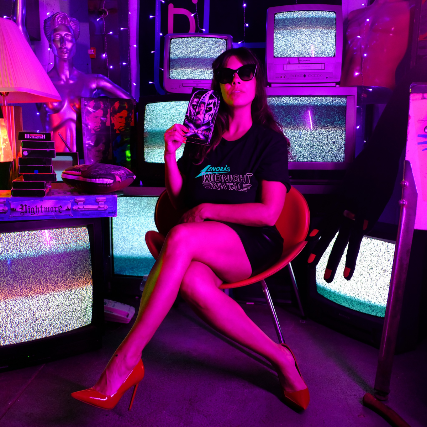 Midnight Rental presents Movie Night
Wed, Feb 8
Show:

8:00 pm
(Doors:

7:30 pm

)
$10.00
Hosted by Lenora from the internet hit-series Midnight Rental which streams exclusively on The Found Footage Festival YouTube channel, Midnight Rental movie nights bring you the best in VHS horror, thriller, and campy classics... never meant for the big screen!

Come enjoy a movie night, mixed with equal parts variety show and bad made for TV commercials from the era. Audience members will vote between a few different movies to choose which they want to see! Movies to vote on this time around include:
'Dark Angel' and 'I Come in Peace'

Brush up on your movie knowledge: we'll play trivia to kick start the evening!

Plus: popcorn, sugary snacks, chips, and beverages for purchase throughout the evening.
---
Lenora's Midnight Rental
Hosted by late night horror hostess Lenora, co-host of 'The Big Bad B-Movie Show' on The CW in Cleveland, 'Midnight Rental' takes viewers on a tour of tapes that are of lesser known and lesser loved movies who never quite found their footing, but still deserve their 5 (15 would still be too generous) minutes of fame. Set in a video store, 'Midnight Rental' even has a back room. But, it's not THAT kind of back room. Designed with late night b-movie level love and campiness in mind, you're bound to learn something while you're at 'Midnight Rental', whether it's a bunch of facts about Tom Savini, or the correct pronunciation of Miguel Ferrer's name (honestly, the jury's still out on that one.) Just remember, we close at midnight. Join Lenora once a month at 'Midnight Rental', exclusively on The Found Footage Festival's YouTube channel.