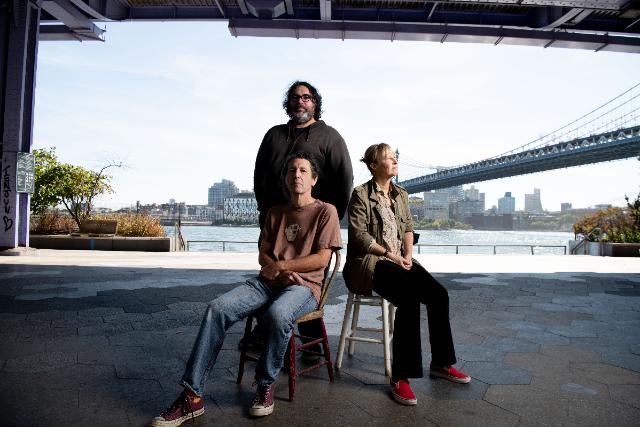 The Grog Shop Presents:
⚠️ SOLD OUT⚠️ An Evening With Yo La Tengo
Wed, Mar 22
Show:

8:00 pm
(Doors:

7:00 pm

)
$37.00
The Grog Shop Presents Yo La Tengo live at Beachland Ballroom
Wednesday, March 22nd
7p doors / 8p show
$32.50 advance / $37 day of show
All Ages
+ $3 at door if under 21
Yo La Tengo
Time keeps moving and things keep changing, but that doesn't mean we can't fight back. Yo La Tengo have raced time for nearly four decades and, to my ears, they just keep winning. The trio's latest victory is called This Stupid World, a spellbinding set of reflective songs that resist the ever-ticking clock. This is music that's not so much timeless as time-defiant. "I want to fall out of time," Ira Kaplan sings in "Fallout." "Reach back, unwind."
Part of how Kaplan, Georgia Hubley, and James McNew escape time is by watching it pass, even accepting it when they must. "I see clearly how it ends / I see the moon rise as the sun descends," they sing during opener "Sinatra Drive Breakdown." In the séance-like "Until it Happens," Kaplan plainly intones, "Prepare to die / Prepare yourself while there's still time." But This Stupid World is also filled with calls to reject time – bide it, ignore it, waste it. "Stay alive," he adds later in the same song. "Look away from the hands of time."
Of course, times have changed for Yo La Tengo as much as they have for everyone else. In the past, the band has often worked with outside producers and mixers. Yo La Tengo made This Stupid World all by themselves, though. And their time-tested judgment is both sturdy enough to keep things to the band's high standards, and nimble enough to make things new.
Another new thing about This Stupid World: it's the most live-sounding Yo La Tengo album in a while. At the base of nearly every track is the trio playing all at once, giving everything a right-now feel. Take the signature combination of hypnotic rhythm and spontaneous guitar on "Sinatra Drive Breakdown," or the steady chug of "Tonight's Episode," a blinkered tunnel of forward-moving sound. There's an immediacy to the music, as if the distance between the first pass and the final product has been made a touch more direct.
The songs on This Stupid World were still journeys, though. An example is the absorbing, three-dimensional "Brain Capers." To construct this swirl, the band blends guitar chords, bass loops, drum punches, and various iterations of Hubley and Kaplan's voices into shifting layers. Simpler but just as dense is closer "Miles Away." A dubby rhythm lurks below Hubley's vocal, which brushes across the song like paint leaving bright blurs. Throughout the album, these touches, accents, and surprises intensify each piece. It's a rarity – a raw-sounding record that gives you plenty of headphone-worthy detail to chew on.

Marc Masters
---
Yo La Tengo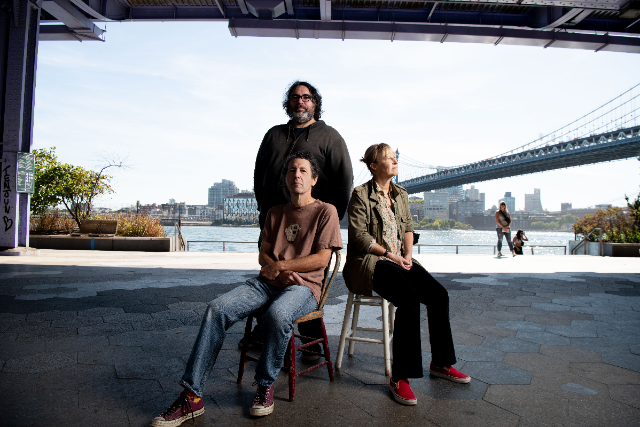 There's a riot going on. You don't need me, or Yo La Tengo, to tell you that. These are dark times, in our heads as much as in the streets. It's easy to lose contact with the ground, flying through endless banks of storm clouds day after day. Confusion and anxiety intrude into daily life and cause you to lose your compass. There are times that call for anthems, something to lift you out of your slump and put fire in your feet. And then there are times when what is indicated is a balm, a sound that will wrap around you and work out the knots in your neck.

While there's a riot going on, Yo La Tengo will remind you what it's like to dream. The sound burbles and washes and flows and billows. If records were dedicated to the cardinal elements, this one would be water. There are shimmery hazes, spectral rumbles, a flash of backward masking, ghostly flamingos calling "shoo-bop shoo-bop." You are there. And even if your mind is not unclouded--shaken, misdirected, out of words and out of time--you can still float, ride the waves of an ocean deeper than your worries, above the sound and above the Sound.

For Yo La Tengo this is a slow-motion action painting, and Georgia Hubley, Ira Kaplan, and James McNew did it all themselves, in their rehearsal studio, with no outside engineer (John McEntire later did the mix). They did not rehearse or jam together beforehand; they turned on the recorder and let things coalesce. Songs came together over long stretches, sometimes as much as a year going by between parts. You'd never guess this, since the layers are finessed with such a liquid brush. You'd imagine most of the songs had sprung forth whole, since they will enter your head that way. Within two listens you will be powerless to resist the magnetic draw of "Shades of Blue," will involuntarily hear "She May, She Might" on your internal jukebox first thing in the morning and "Let's Do It Wrong" late at night. While there's a riot going on you will feel capable of bobbing through like a cork.

In 1971, when the nation appeared to be on the brink of violently coming apart, Sly and the Family Stone released There's a Riot Goin' On, an album of dark, brooding energy. Now, under similar circumstances, Yo La Tengo have issued a record with the same name but with a different force, an album that proposes an alternative to anger and despair. Their first proper full-length since 2013's Fade, There's a Riot Goin' On is an expression of freedom and sanity and emotional expansion, a declaration of common humanity as liberating as it is soft-spoken.