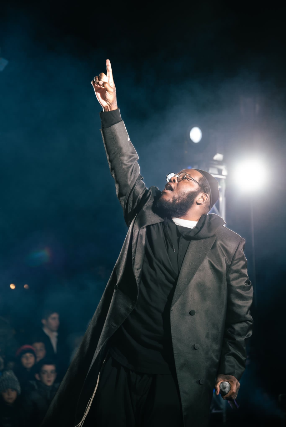 Nissim Black
Sat, Dec 17
Show:

7:30 pm
(Doors:

6:00 pm

)
$20
Saturday December 17,2022
Doors 6:00 PM / Show 7:30 PM
All Ages
$20
Nissim Black
Nissim Black has been a gangsta rapper, a gang member, and a faith seeker. But it is his current incarnation that is here to stay: an African American Hasidic Jew who brings sharp beats and hooked-filled rhymes to the masses.
​
The first single of 2020, "Mothaland Bounce" is a confluence of everything he's ever done, and everywhere he's ever been. The vibe is old school, but the song is thoroughly fresh, pairing big beats with an African hook and a catchy chorus for a video that has already garnered 4.5 million views on YouTube
​
The new tunes feature Black's melodic singing mixed with silky smooth beats and his nimble verbal sparring; Black's music has always leaned heavily on melody, but he had to wait for hip hop to catch up. After a long discovery process, both musically and personally, Black has finally found his true identity. "All of those journeys—being in a gang, being on the football team was a part of me trying to say, 'I belong to something greater than myself, I know where, but I belong somewhere,'" he says. "It's almost like trying to find that home."

Proudly presented by Rekindle, Rappers and Rabbis, and other sponsors.
---
Nissim Black
After experiencing and seeing the effect this pandemic had on many communities in Israel I decided to team up with some local organizations in order to help families who have had a hard time. In 2013, my family and I were homeless, moving from place to place, and I even spent nights sleeping in my car. This went on for a year without any clear sign of when the trying time would come to an end. From these memories I've taken it upon myself to help others not to suffer from such hardships.
Many families here in Israel have been devastated by the COVID 19 pandemic. Unable to support themselves and their loved ones. Each place and every country has had its share of this global economic disaster, with each story worst than the next. Here in Israel the government out of their own good will acted swiftly to enforce mandatory lockdowns, curfews, the indefinite closing of businesses, etc. In Israel the local economy isn't run by big companies that are owned by multi-millionaires, but rather many smaller mom and pop shops owned by simple people who are now in a financial crisis.
In addition to the financial disaster covid had, we've recently experienced the death of 45 beautiful souls on Lag BaOmer, one of which was my former learning partner and good friend. Many of these families are left without the support of their fathers. So we MUST do something about it, and we WILL, with your help.
I encourage everyone to donate to this cause and to help the people of Israel through this time of uncertainty. Please be a blessing for those are in need, and whoever shall bless Israel shall be blessed. Thank you and G-d Bless.