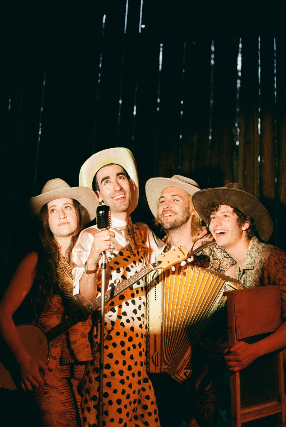 Fleece / The Astronomers / Billy Carrick
Wed, Oct 26
Show:

8:00 pm
(Doors:

7:00 pm

)
$15.00
FLEECE
"If two men just ain't right, then I'm living in a world that's upside down," Matt Rogers, lead vocalist and songwriter of Montreal-based LGBTQ indie-rock band Fleece, croons on "Upside Down", a song on their gorgeous new LP, Stunning and Atrocious. On this album, the band isn't holding back on sharing their roadmap for how they see the world.
In fact, Fleece has never paused, even for a moment, to define themselves or add labels to their experience, instead opting to open up and be. This band is au naturel and it shows, right from their earliest days and rise to notoriety through their rice cakemunching "How to write an Alt-J song" viral video (which amassed 12 million views). Since that video, that notoriety has only amplified. Subsequent releases and antics have added fuel to this fire and grown large and dedicated followings on Spotify, Instagram and TikTok, resulting in worldwide audiences and millions of monthly streams. The band's recent singles "Upside Down", "Do U Mind? (Leave The Light On)", and "Love Song for the Haters" have each leapt past the 2-million stream mark. Along the way the band found themselves on tour across North America multiple times, supporting renowned bands Tokyo Police Club, Born Ruffians, Mt. Joy, and others as their demand as a headliner grew in these same markets.
While having been focused on the songwriting of lead vocalist Matt Rogers and the relentless energy of drummer and co-founder Ethan Soil, Fleece has always been about being a band. Fleece's previous music had drawn from musicians no longer in the project, but it was the emergence of Megan Ennenberg (guitar/vocals) and Jameson Daniel (guitar) as members that completed the line up and contributed to the cohesive whole, the final resting place, the rebirth of Fleece.
The Astronomers
https://www.theastronomersmusic.com/
---
Fleece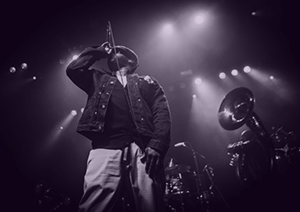 The Astronomers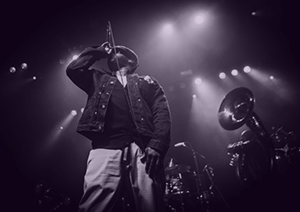 Billy Carrick