PUNK ROCK MOVIE NIGHT: Nightclubbing: The Birth of Punk Rock in NYC / Sid: The Final Curtain
w/
Sid: The Final Curtain
Thu, Jul 28
Show:

7:00 pm
(Doors:

6:30 pm

)
$10.00
Thursday, July 28
Doors 6:30pm / Movie 7pm
$10
All Ages
"PUNK ROCK MOVIE NIGHT!"
A double bill of a feature film (80 minutes): "Nightclubbing: The Birth of Punk Rock in NYC"
And a special bonus short film (20 minutes): "Sid: The Final Curtain"
Two great Punk Rock films on one night.
Link to NIGHTCLUBBING trailer:
https://youtu.be/cadFFnd4eIc
Link to SID trailer:
https://youtu.be/Xr7kbvTbOc8
"
Nightclubbing
" is the first-ever documentary about the renowned New York City nightclub Max's Kansas City (1965-1981) which had an indelible impact on the worlds of music, fashion, art, culture and the creation of the city's punk rock scene.
As legendary singer and Max's veteran Alice Cooper — who signed his contract with Warner Bros. Records at the club — says, "A million ideas were launched back there." He's referring to Max's Kansas City's famous back room, where Andy Warhol held court and artists, actors, filmmakers, models, writers, assorted criminals and countless musicians — from Lou Reed and the Velvet Underground to David Bowie and the New York Dolls — made an indelible mark on music and the world. Max's was also an early safe haven for the city's LGBTQ crowd including Candy Darling, Holly Woodlawn, Jackie Curtis and presided over by transsexual DJ Wayne/Jayne County.
Max's is where David Bowie first met Iggy Pop — who ended up bloody and being taken to the hospital (by Alice Cooper) after a particularly lively performance. It's where Sex Pistols bassist Sid Vicious played his last shows, backed by members of the New York Dolls and the Clash. It's where Aerosmith and Bruce Springsteen were signed to Columbia Records by Clive Davis; where Bob Marley and the Wailers played their first American shows; where Debbie Harry waitressed; where the fledgling Beastie Boys first fought for their right to party; where Madonna first got an early taste of the city's nightclub scene. Sex and drugs weren't only commonplace in the bathrooms, but in the entire club.
Over the years, the club's clientele included Mick Jagger, Keith Richards, David Bowie, Iggy Pop, Jim Morrison, Patti Smith, Lenny Kaye, Bob Dylan, Frank Zappa, Joan Baez, John Lennon, Yoko Ono, Janis Joplin, Nancy Sinatra, John Cale, Brian Jones, Todd Rundgren, Sid Vicious, Roy Lichtenstein, Robert Rauschenberg, Jane Fonda, Warren Beatty, Divine, Jack Nicolson, Dennis Hopper, Al Pacino, Federico Fellini, Stanley Kubrick, Mel Brooks, John Waters, Twiggy, Halston, Bianca Jagger, Betsey Johnson, Williams, William S. Burroughs, Sam Sheppard, Timothy Leary, Robert Mapplethorpe, Annie Leibovitz and even New York Mayor Ed Koch.
"
Sid: The Final Curtain
", a new exclusive short film documenting the final live performance of Sex Pistols bassist Sid Vicious at Max's Kansas City in September 1978 featuring rare live footage and exclusive interviews from those who witnessed it.
---
Nightclubbing: The Birth of Punk Rock in NYC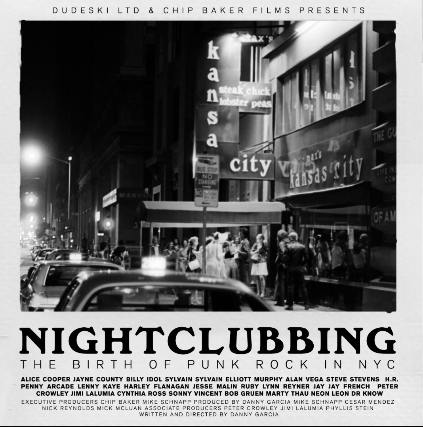 Sid: The Final Curtain