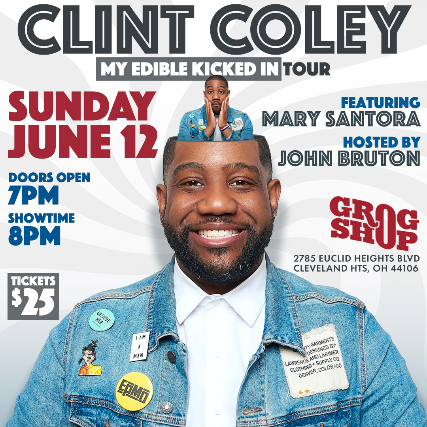 Clint Coley - 'My Edible Kicked In' Tour
w/
Lou Gee
,
Mary Santora
,
John Bruton
Sun, Jun 12
Show:

8:00 pm
(Doors:

7:00 pm

)
$25.00
CLINT COLEY
Philly's own Clint Coley is this era's new breed of do-it-all comedy star. He is a multi-talent who is the creator and executive producer of THE WORLD SERIES OF SPADES – with Season 2 produced in partnership with MACRO Studios.
Currently on the road for his MY EDIBLE KICKED IN tour for spring and summer 2022, he has released four comedy albums: TUESDAY MORNING, I'M AN ADULT, STURGIS and SENSITIVE.
Coley is the creator and host of the popular Advice From A F*ck Boy podcast where he's dropping gems for the guys, cheat codes for the ladies and has a book of the same name that was released on Amazon and other retail book platforms.
Aside from stand-up comedy, Clint has written, produced, and starred in various short films under his Everybody Eats Productions banner. THE FIRST DATE, THE FIRST TIME, and SCRATCH were each accepted into the International Black Film Festival. SCRATCH and THE FIRST TIME were nominated for Best Short Film, with THE FIRST TIME winning the award.
LOU GEE
Comedian | Master Chef Single Man Kitchen | My Phone Dry
MARY SANTORA
🎤Stand up comedian
📻 CoHost of
@alancoxshow
on
@1007wmms

JOHN BRUTON
Host
"Chill anger" is the best way to describe John Bruton's comedy style. He's even become a staple in the Cleveland comedy scene because of his stand up performances and great show production.
Bruton also host a podcast where he interviews comedians about bad shows and experiences they've had called "Friday Late Show".
He also produces two mainstay comedy shows in Cleveland, a showcase style show called "Make Em Laugh Mondays" at Grog Shop. And a monthly crowd work show, "Jokes on You" at Hilarities.
While staying busy during the quarantine, he also created
MakeEmLaughTV.com, an online comedy network, where comics
can sell content and merch directly to audiences instead of
them having to have streaming service subscription.
---
Clint Coley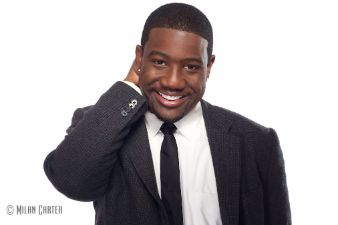 After honing his chops at Philadelphia's premiere comedy club The Laff House Clint Coley moved to New York City to embark on his quest to become a full-time comedian. Inspired by legendary greats such as Chris Rock and George Carlin Coley won Amateur Night at the world famous Apollo Theater within months of arriving in the Big City at age 23.
With talent for both comedy and business Coley went on to organize the All Jokes Aside College Tour visiting 14 colleges and universities throughout the country including UCLA University of Maryland and Penn State University. He also produced and headlined Babylon Cartel Presents: Clint Coley's All Jokes Aside in front of a sold out crowd at the Freedom Theater in his beloved Philadelphia. Coley's drive got him opening gigs during the Royal Comedy and Mike Epps & Friends tours landing him on stage with the likes of Sommore Bruce Bruce Tony Rock and Sheryl Underwood.
In September 2011 Coley launched his own comedy series Chill It's Just Jokes at Philadelphia's Helium Comedy Club. The series quickly expanded to include Los Angeles' prestigious Hollywood Improv in January 2012. Since then Coley is the traveling opening act for King of Comedy D.L. Hughley and been crowned "the prince".
Coley currently has a comedy special on Netflix entitled "Stand and Deliver" he tours comedy venues across the country with King of Comedy D.L Hughley and has a stand up comedy album entitled "I'm An Adult" which is set to release April 29th. Constantly raising the bar Coley now resides in Los Angeles building on the early successes he's had in his career. Coley's distinct storytelling dramatic punch lines quick wit and undeniable charisma keep his shows popular attractions across the country.
Lou Gee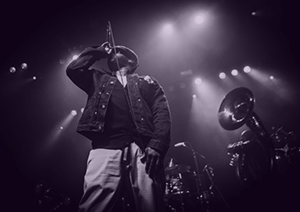 John Bruton